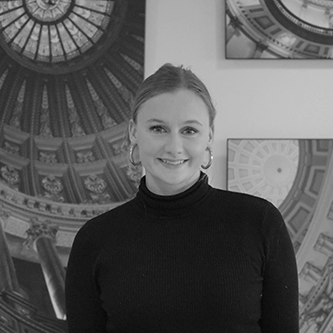 Statesider of the Week: Emma Rose Lowder
Legislative Policy Analyst
Emma Rose Lowder is a Legislative Policy Analyst with the Legislative Division. Emma Rose is a North Carolina native and graduated from the University of Georgia in the Spring of 2021. Before joining the Stateside team, she gained experience from working in government relations for a nonprofit as well as from interning in both chambers of the United States Congress. In her free time, Emma Rose loves to take long runs around DC and Northern Virginia, support the performing arts, and cheer on the Georgia Bulldogs!
Statesider of the Week:
Where do you call home? I was born and raised in Charlotte, NC but spent some time in Georgia while attending UGA.
How long have you worked at Stateside? Almost 3 months
What's one thing most people don't know about you? I was a pre-professionally trained ballet dancer before going to college
What's your favorite thing to do in the DMV area? I love appreciating the local performing arts scene, I could go to the Kennedy Center every day.
What's one thing on your bucket list? I would like to visit all the major national parks
What's your favorite sport to watch (or play)? I love watching the national championship Georgia bulldogs play football!
What's your favorite place in the world? Hilton Head Island, SC